iOS 8.1.2 Jailbreak: How To Jailbreak 8.1.2 With TaiG 1.2.0 - All iOS 8 Devices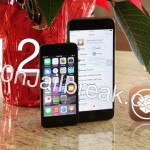 iOS 8.1.2 Jailbreak: How to Jailbreak 8.1.2 Untethered Using TaiG 1.2.0, All iOS 8 iPhone, iPod, iPad Models - Wow, this has to be a new record. Late last night, merely hours following Apple's release of the new iOS 8.1.2 public firmware, a brand new jailbreak 8.1.2 solution was issued by the TaiG team (the same group responsible for the creation of the previous iOS 8 through 8.1.1 jailbreak by the same name). The latest update to the exciting TaiG tool, dubbed TaiGJBreak 1.2.0 for iOS 8 through 8.1.2, is capable of delivering a completely bug-free Untethered jailbreak for 8.1.2 an all iPhone, iPod touch and iPad models. In fact TaiG 1.2 is quickly becoming what a vast number of jailbreakers are referring to as the "most stable" jailbreak yet! Ensuing our earlier coverage stating that the primary kernel exploited utilized by the first iteration of TaiG remained unpatched in 8.1.2, the team promptly released their latest version, TaiG 1.2.0, to once again jailbreak the latest public firmware. In what looks like a new trend, the Chinese-based group - like Pangu they are both funded by third-party companies with their monetary interests in jailbreaking (particularly in relation to non-App Store app distribution in China) - is keen on delivering updates to their tool to support subsequent 8.1.x updates. Like its predecessor, TaiG comes bundled with Cydia (the ever-familiar graphical user interface we've come to know and love for distributing third-party packages and iOS tweaks). Furthermore, jailbreaking iOS 8.1.2 on either the iPhone 6 Plus, iPhone 6, iPhone 5c, iPhone 5s, iPhone 5, iPhone 4S, the new iPad Air 2 and iPad Mini 3, iPad mini 2 with Retina display, the original iPad Air and iPad mini, the iPad 4, iPad 2 or the iPod touch 5th generation is fast and straightforward. Continue reading past the break in today's tutorial for complete instructions on how to jailbreak the aforementioned iOS 8-based devices running 8.1.2 fully UnTethered!
How To Jailbreak iOS 8.1.2 TaiG 1.2 - iPhone 6 Plus, 6, iPad Air 2, Mini 3, All Devices!
To reaffirm what was stated above, this tutorial will assist you in the simple, and mostly one-click, jailbreak iOS 8.1 through 8.1.2 process, which thankfully installs Cydia for the easy acquisition of third-party tweaks.
The all-new TaiG 1.2.0 iOS 8.1.2 jailbreak utility supports all iOS 8-based devices - every iPhone, iPod touch and iPad model that's able to upgrade to 8.1.2 can successfully jailbreak by way of TaiG, including the following:
iPhone 6 and iPhone 6 Plus: Apple's latest A8X-powered iPhones.
All iPhone 5x models, being the iPhone 5s, 5c and 5.
The older A5-based iPhone 4S.
Apple's all-new tri-core CPU iPad Air 2 and its predecessor, the original iPad Air.
The 5th-generation iPod Touch.
All iPad mini models, including the Mini 3, 2 and 1.
The older full-size iPad 4, iPad 3 with Retina display and iPad 2 models.
Jailbreak iOS 8.1.2 Requirements - All iPhone, iPod And iPad Models: TaiG Version 1.2.0!

Before delving head-first into this new Untethered iOS 8.1.2 jailbreak tutorial, you'll need to verify that you meet the following TaiG and iOS 8.1.2 jailbreak requirements to ensure the success of your Untethered jailbreak on Apple's latest 8.1.2 firmware.
1. You'll need any of the above iOS-based devices running iOS 8 through 8.1.2 - it's important that they weren't updated via Apple's over-the-air (OTA) update option in the Settings app. If you happened to perform an over-the-air update, follow the steps outlined in the "Important Jailbreak Prerequisites For 8.1.1 And TaiG" segment of our previous jailbreak tutorial (available here). Also, you must disable both the Find my iPhone feature in the iCloud portion of theSettings app, as well as passcode - it's very important that you disable both.
2. A Windows-based PC (Windows 8 or 7 should do the trick) - while Mac OS X isn't officially supported by TaiG, devices running 8.0 through 8.1.2 can follow our all-new PP for OS X guide to successfully jailbreak.
3. The latest version of iTunes, as well as the new 1.2.0 version of TaiG jailbreak 8.1.2 tool, both of which can be found, and fully downloaded, from the download section listed below.
Now, without further ado, you can proceed with the second set of steps outlined in today's tutorial to jailbreak iOS 8.1.2 Untethered on your iPhone, iPad or iPod touch!
iOS 8.1.2 Jailbreak Tutorial With TaiG 1.2.0

Step 1. In addition to downloading TaiG 1.2 (TaiGJbreak 1.2.0) for iOS 8 through 8.1.2, you'll also need to obtain Apple's latest installment to iTunes. To ensure that you obtain authentic and genuine copies of both, use the links below in our download section.
Step 2. After successfully downloading TaiG to jailbreak 8.1.2, plug your iPod, iPhone or iPad into your Windows-based PC using either Apple's standard Lighting USB cable for all newer devices, such as the iPhone 6 Plus and iPad Air 2, or their older 30-pin connector for the iPhone 4s and older iPad models.
Step 3. Verify that you have indeed disabled both Find my iDevice (note: depending on your device, it will either be 'Find my iPhone', 'Find my iPod', or 'Find my iPad') and Passcode on your device running iOS 8.1.2 and uncheck the bottom "3K Assistant" check box to ensure that third-party Chinese distribution software isn't installed on your device. Don't worry, as long as that bottom check box is left unchecked, only Cydia will be installed - TaiG is one of the safest and smoothest jailbreaks yet (more on that here).
Step 4. Click the large green "Start" button toward the bottom of TaiG 1.2.0 to continue and proceed forward with the jailbreak iOS 8.1.2 process.
Step 5. Leave your iPad, iPod touch or iPhone connected to your computer throughout the duration of the jailbreak procedure, refrain from interacting with it at all. Once your iOS 8.1.2-based device reboots, you'll be greeted with the welcomed sight of Cydia in what was previously a blank space on your device's homescreen (Cydia will usually appear on the second page, provided you're running a clean installation of 8.1.2).
Important Note: After your device has Cydia, tap into the graphical package and tweak distribution platform, let Cydia Reorganize the Filesystem on iOS 8.1.2 - it's paramount that you neither exit Cydia on your own nor reboot your device, that may result in the forced restore of your device.
Congratulations, after having adhered to five simple and easy-to-follow steps, and one 'important note', you've successfully jailbroken iOS 8.1.2 on your iPhone, iPad or iPod touch running the latest public firmware!

Top Cydia Tweaks guide from iCrackUriDevice for iOS 8 devices Jailbroken on 8.1.2.
If you find yourself lost post-jailbreak on 8.1.2 and you're not sure what to install from Cydia, we recommend watching iCrackUriDevice's recent Top Cydia Tweaks for iOS 8 and 8.1.1 video, as well as navigating to our recent coverage on 42 of the coolest Tweaks and packages available inside of Cydia for jailbroken iOS 8 devices.
Download The TaiG 1.2 Utility To Jailbreak iOS 8.1.2
Finally, as one concluding note either pre or post-jailbreak, for those of you interested in earning the best paid iOS 8.1.2 App Store apps, gift cards and electronic devices on iOS 8 through 8.1.2 for free, we recommend downloading Free App Life inside Safari on your iOS-based device, regardless of its firmware and jailbreak status.
Thank you for reading, and following, our comprehensive jailbreak 8.1.2 via TaiG tutorial. As always, we appreciate the support - to thank us please like us Facebook or Retweet on Twitter and keep your browsers locked to Evasi0n Jailbreak for subsequent jailbreak guides.
Don't forget to subscribe to our Jailbreak Evasion 8.1.2 TaiG 1.2.0 news feed, like us on Facebook, follow us on Twitter and add us on   to be expediently notified when we publish future articles concerning to iOS 8.1.2, new installments of Apple's latest iOS 8.1.x firmware, as well as future updates to both the TaiG and Pangu utilities.
Archives :