How To Jailbreak iOS 8.1.2 On Mac OS X Untethered Via PP Ghost - All iOS 8 Devices
Jailbreak 8.1.2 On Mac OS X with PP, All iPhone, iPod touch and iPad Models - It's been over a month since the initial release of TaiG for iOS 8.1.2 (longer if you count the original TaiG jailbreak tool for iOS 8.1.1), and the group has yet to issue a Mac iteration of their utility. However, a new group, dubbed PP, the very same that was responsible for funding Pangu in their jailbreak endeavors, took it upon themselves to release a Mac OS X compatible iOS 8.1.2 jailbreak for all iPhone, iPod and iPad models. Mac owners can now natively jailbreak their iOS devices without having to fuss with a virtual machine or Bootcamp to first install Windows - PP's tool is capable of delivering an Untethered jailbreak straight from the comfort a Mac. While it's entirely possible that the PP utility, labeled PPghost, is a rip-off of TaiG's jailbreak utilizing the same exploits to achieve the same effect, it's nevertheless an extraordinary benefit to the community, as those who were holding off on jailbreaking because they own a Mac can now take comfort in knowing they're covered. Similar to TaiG's one-click Windows TaiGJBreak 1.2.0 tool for iOS 8, the Mac version of PPghost is able to jailbreak 8.1.2 on the iPhone 6, iPhone 6 Plus, iPhone 5S, 5C, 5, 4S, the iPod touch 5th generation, as well as all iPad models, including the iPad Air 2, iPad Mini 3, the original iPad Air, iPad mini 2, iPad 4, the original iPad mini, iPad 3 and the older iPad 2. Surprisingly, although the tool is from a different group than the mastermind XN developer behind TaiG -what a number of jailbreakers are now referring to as the simplest jailbreak yet - the new PP Mac OS X utility aims to match the aforementioned simplicity and level of ease as TaiG. Continue reading past the break for additional information on the new iOS 8.1.2 jailbreak utility and the PPghost for Mac download link to fully jailbreak your iOS device(s) running iOS 8.1.2 Untethered!
How To Jailbreak iOS 8.1.2 On Mac OS X via PPGhost - iPhone 6 Plus, 6, All Devices!
First, prior to reading further, if you're looking to jailbreak and you own a Windows-based PC, follow our TaiG jailbreak guide from last month in lieu of this simple Mac tutorial.
Also, as outlined above, the brand new PPghost jailbreak iOS 8.1.2 tool for Mac OS X supports the following iDevice models running iOS 8.0.x, 8.1, 8.1.1 and 8.1.2:
iPhone 6 and iPhone 6 Plus (all carriers)
iPhone 5 series, including 5S and 5C
iPhone 4S
iPad Air 2 and the original iPad Air
iPad mini series, including 3 and 2
iPod Touch 5th gen
Older iPads: iPad 4, iPad 3 and iPad 2
Jailbreak iOS 8.1.2 Mac OS X Requirements - PPGhost Jailbreak!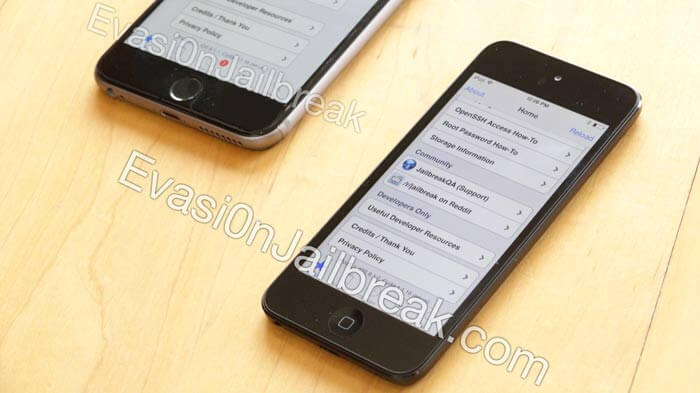 Before continuing with today's tutorial and jailbreaking iOS 8.1.2 Untethered, verify that you meet the following requirements, as every key point listed below is absolutely paramount to the successful completion of your Untethered jailbreak on iOS 8.1.2.
1. If your device was updated through Apple's OTA (over-the-air) update portion of the Settings app, you'll need to follow the pre-jailbreak "Important Jailbreak Prerequisites For 8.1.1 And TaiG" instructions found in our early article - although it's for Windows, it's crucial that you adhere to that segment. Also, ensure that you've disabled both Find my iPhone and passcode lock, both of which need to be disabled during the jailbreak process - this is very important.
2. Any Mac OS X-based computer - again, for Windows PC owners, follow this tutorial to completely jailbreak iOS 8.1.2.
If you've taken everything listed above into account, you can continue to download PPGhost for Mac OS X and jailbreak iOS 8.1.2 on any iPhone, iPad or iPod touch that's capable of running the aforementioned firmware (said download can be found listed below).
iOS 8.1.2 Jailbreak Tutorial On Mac OS X
Step 1. Confirm that iTunes has been updated to the latest version by launching the Mac App Store and checking for available updates. Download the latest PPGhost for iOS 8 jailbreak utility, which is tailored for Mac OS X, found below.
Step 2. Connect your device via USB, lunch iTunes and ensure that the program successfully recognizes your device; if it doesn't, you may need to trust the connection on both the device and the Mac (if that's the scenario, you'll receive a prompt).
Step 3. Close iTunes and launch PPghost for Mac. For those of you having difficulties opening the tool, launch System Preferences, click the 'Security & Privacy' pane and under 'General', check the 'Anywhere' setting for the 'Allow apps downloaded from' section.
Step 4. Enter Airplane mode on your device, this step is very important, confirm that both passcode and Find my iPhone are disabled (as stated above), uncheck the box in the bottom left of the foreign interface and click the button in the bottom left to proceed with the jailbreak.
Step 5. Leave your device connected to your computer throughout the duration of the jailbreak process and refrain from interacting with it at all. Once your iOS 8.1.2-powered device reboots you should (provided you've followed this tutorial to the letter) be greeted with the welcomed sight that is Cydia in what was previously a blank space on your device's springboard.
Urgent Note: After you've followed the process in its entirety to jailbreak, tap the Cydia icon and let the graphical package distribution platform 'Reorganize the Filesystem' on iOS 8.1.2 - it's very important that you neither exit Cydia or let your device lock or reboot as that will likely result in the forced restore of your device.
Congratulations, after having followed five simple and easy steps, including one very important note, you've successfully jailbroken iOS 8.1.2 on Mac OS X for your iPod touch, iPad or iPhone running the latest public firmware.
For those of you who find yourselves lost once jailbroken on iOS 8.1.2 and you're unsure of what to install from Cydia, we recommend watching iCrackUriDevice's new top Cydia tweaks coverage from yesterday, as well as reading through our written coverage on some of the best tweaks available inside Cydia for iOS 8 jailbroken devices.
Download PP Ghost 1.0 Utility To Jailbreak iOS 8.1.2
Thank you for reading and following our detailed and comprehensive jailbreak 8.1.2 via PPghost for Mac tutorial. As always, we appreciate the support - if you'd like to show your appreciation please like us on Facebook or Retweet on Twitter and keep your browsers locked to Evasi0n Jailbreak for future guides.
Don't forget to subscribe to our Jailbreak Evasion 8.1.2 PP 1.0 news feed, like us on Facebook, follow us on Twitter and add us on   to be promptly alerted when we publish new articles pertaining to iOS 8.1.2, future installments of Apple's latest iOS 8.1.x firmware, as well as updates the PPghost, TaiG and Pangu jailbreak tools.
Archives :